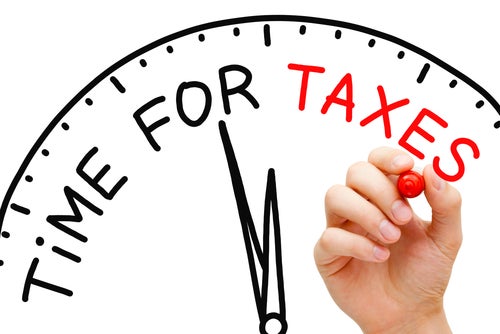 Do you need credit repair? You may be aware of issues with your credit report. The problem may be due to mistakes on your part, mistakes on the credit bureaus part, an inability to repay debts, you were the victim of identity theft or you are suffering the fallout from a divorce. Now that it's time to do your tax return; you have another valid reason for putting off dealing with your credit. But don't do it. Now is an excellent time to start on your credit repair journey.
You're Already Dealing with Your Finances
Even if you're hiring a professional to do your taxes, you still have to round up your financial statements and take stock of your overall fiscal status. Many of the same documents you will use to figure out your taxes can be used to start the credit repair process. You will be evaluating your debt, earnings and loan interest. Don't waste your efforts at organizing — preparing the paperwork, finding old receipts, analyzing your income and monthly payments — you'll have all of your records in one place, information that will help you start the credit repair process.
You Can Pay Down Debt
If you receive a tax refund, a good use for that money is paying down your debts. One of the killers of a credit report is high debt. Your credit utilization rate, the ratio of the debt you owe to your credit limit, is 30% of your credit score. Keeping your utilization rate below 30% helps to give you the maximum score possible (although some say keeping the rate below 10% is optimal), even if you have a few late payments. You can see dramatic increases in score if you are able to pay down your debt to a low enough level.
Another thing you can do with your tax refund is to repair your credit by paying off old collections from your report. You can negotiate with creditors to get a better credit rating on your credit report in return for making good on old debts.
You Can Prevent Further Delinquencies with Increased Savings
Everyone experiences unexpected expenses and some of these expenses cannot be put off — like auto repair bills and medical bills. If you are unable to absorb these extra costs without forgoing the payment of other bills, you can find yourself further damaging your credit. If you don't have a lot of outstanding debt, stash that tax refund into savings so you are prepared for future emergencies.
You can Invest in Professional Credit Repair
Another way you can use the unexpected windfall of getting money back from taxes is to spend it on a professional credit repair service. Most credit repair services are not that expensive, and one tax refund can pay for months of service. If you're overwhelmed by the thought of contacting creditors and credit bureaus, you might want to accomplish your goals by getting experienced help. Credit repair is more than just disputing items, it also includes counseling and working together with your creditors to help achieve the desired result.
There's No Time like the Present to Begin
Putting off your credit repair can be costly. Bad credit has real time costs in the form of higher interest rates, more expensive insurance and the potential of losing out a job to someone with better credit. Interest rates for mortgages are some of the lowest in history, but to get those good rates, or even qualify at all for a mortgage you need good credit. It takes time to fix your credit; delaying the process only puts you that further behind in reaching your financial goals. The more money you save each month because of an improved credit score, the more you can put some away for savings and paying off debt. If you are looking to relocate or get a better paying job, delays in fixing your credit will only delay your plans. It's best to start now.
If you find yourself putting off purchases that are necessary, like auto repairs or even medical expenses, you are putting yourself in dire straits and should consider credit repair sooner rather than later.
You Will Find Yourself Being Happier
Do you cringe when you reach in the mailbox because you know there are bills you can't pay? Are your creditors beating you up on a weekly or daily basis? Part of credit repair is getting your debt in control. All reputable credit repair companies work on your whole financial picture, and debt is an integral part of credit repair. Without addressing this aspect of your fiscal health, a person is doomed to failure.
Are you missing out on great deals in interest rates or credit card rewards programs due to your bad credit? Are you too embarrassed to apply for loans or other credit because you know you will be rejected? Once your credit is repaired, instead of putting your head in the sand, you can hold your head up high and keep worrying thoughts of debt away or prevent ego-bruising creditor rejections.
Related Articles:
How Long Should You Keep Your Tax Records?
Will a Tax Audit Affect My Credit?
The Five Best Things To Do With Your Tax Refund
Learn how it works