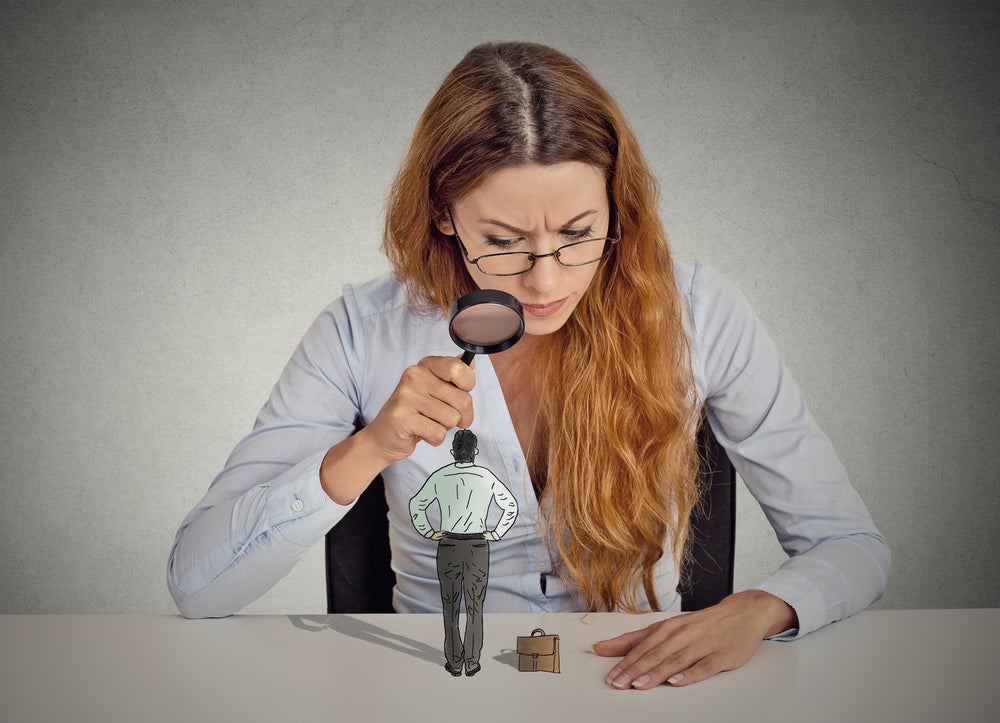 Short answer: No. Employers do not check your credit score. But they are checking your credit report.
Your credit score is reserved for lenders when you apply for loans or credit cards. Employers request a special credit report which contains information about your previous jobs and addresses, whether you make payments on time, if you have accounts in collections and if you have ever been sued.
But, if you're wondering how your credit report can affect your job search, you're smart to think of it before you actually start the job search. That's because many employers will actually run your credit report as part of their standard background check and you want to see what they will see by checking your credit reports yourself first.
Check your own credit for free at www.annualcreditreport.com  so if you see any errors, you can correct them (which is also free). And, if there are any negative items, you will be able to explain them if asked during a job interview.
What may be on my credit report that turns employers off?
Your financial information gives prospective employers a clue to how responsible and financially stable you are, under the assumption that financially responsible people are more likely to show up to work on time every day, stay at their job longer and less likely to steal from the company.
Almost half (47%) of companies surveyed in the 2012 survey on credit checks in employment conducted credit checks on job candidates, according to Society for Human Resource Management (SHRM). The survey found the leading reasons were to decrease/prevent theft and embezzlement (45%) and to reduce legal liability for negligent hiring (22%).
More recently, another SHRM survey conducted on employee financial stress found that 37% of employers agree that employees have missed work due to a financial emergency in the past 12 months.
Here is the basic list of information an employer will see on an Experian employment credit report as well as what that information says about you as an employee:
Your Social Security number
The length of time at your current and previous addresses which may give them a clue as to how stable you are and how likely you are to stay in the job long-term.
Your previous work history, which may uncover problems keeping a job.
Any other names you've used, such as your maiden name or an alias.
Any public record bankruptcies, liens and judgments against you which may point to someone who doesn't take financial or contract obligations seriously and who can't communicate and negotiate with creditors (others).
A listing of your credit accounts and payment history which shows whether you are handling or mishandling your financial obligations, both currently and in the past.
So, you can see how these aspects can reflect poorly or positively on your ability to be a good employee and perform the job in the eyes of a prospective employer, especially for financial positions.
On its website targeted to employers using their credit check services, Experian states, "Credit information provides insight into an applicant's integrity and responsibility toward his or her financial obligations." TransUnion's website states, "Our Employment Credit Report helps assess a candidate's financial responsibility by providing comprehensive credit history and public record information in a more descriptive format than a standard credit report."
What are my rights as the job applicant?
As the job applicant you do have rights according to the Fair Credit Reporting Act (FCRA). This pre-employment credit report check will not be done without your authorization because you will have to sign your consent to run the report. According to the FTC, this consent may appear on a separate form indicating consent for a pre-employment credit screening or it may be buried in the application so be sure to read everything you are signing.
Federal laws allow employers to run a credit check on you but using that information found in the report to make hiring decisions is only permissible on a state-by-state basis according to the National Conference of State Legislatures. Currently, just 10 states limit an employer's use of your credit information: California, Colorado, Connecticut, Hawaii, Illinois, Maryland, Nevada, Oregon, Vermont and Washington. The other states can reject your job application or not hire you based on information in your credit report.
If you think your credit report might be a problem in your job search, definitely educate yourself on your specific state's current laws about the use of credit information in hiring decisions.
FCRA also protects you if you are disqualified for a job because of information in your credit report and an employer must provide you with a copy of the report, the name and contact information of the reporting agency along with the reasons for not hiring you (called an "adverse action" letter).
On a positive note, employer inquiries for your credit report, no matter how many, are not considered a "hard inquiry" and do not negatively affect your actual credit score. And, if you have good credit you may have an advantage over applicants with poor credit in your job search. If not, know that there are many things you can do right now to improve your credit over time including professional credit repair.
Learn how it works