The holidays are the most popular time of year to travel. Millions of Americans travel all over the country and world to see family and friends, or just to relax. Whatever the reason, you still need to spend money while traveling and a credit card is the perfect option.
However, depending on your location, you cannot just show up at your destination and expect everything to work out fine.
These tips will help you prepare your credit for your holiday traveling.
Let Your Card Issuer Know Your Travel Plans
The first thing you should do before traveling with your credit card is let your card issuer know about your trip. You can usually do this online if you have online payments set up.
Alternatively, call the number on the back of the card and let them know the dates and locations that you will travel. Do not forget to mention any potential layovers. Often travelers will mention two cities but forget to mention a layover city.
Sometimes their algorithm knows that you are just on a layover. Other times your card will be declined.
Just make sure you are as detailed as possible when letting your issuer know about your vacation and you should have no issues.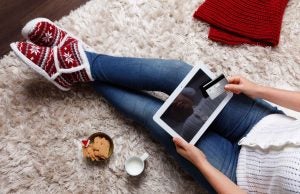 Increase Your Credit Limit
Traveling brings many surprises that could cost money. This is especially true for international travel.
An increased credit limit is certainly not necessary before traveling, but it does allow for some extra money if an emergency arises.
If you do go this route, then make sure to only use the extra credit for emergencies. Credit cards have high interest rates, so using it for leisurely activities could end up costing you much more money in the long term.
Pay Down Your Debt
Paying down some of your credit card debt before your trip is an excellent option for a few different reasons.
First, it will save you money. Credit cards have high interest rates, so paying your balance will save you money.
Next, it frees up available credit. Available credit can be used in the case of emergency without even having to call your credit card company.
Finally, it will probably improve your credit score, but this depends on many factors. However, if you are already at your credit limit, then it will certainly improve your credit.
Just pay off your debt if you can and especially if you are paying interest on that debt. It will help you in the long-term.
Check Your Travel Features
Some cards have excellent travel features, and this could include cards that have no foreign transaction fees. Foreign transaction fees are actually an expensive problem for many international travelers. If you can avoid foreign transaction fees, then you will be much better.
If you plan on domestic travel, then don't worry. There are still plenty of travel features that you can utilize. For instance, many credit cards offer cashback on purchases of gas or at certain restaurants. This is especially useful if you plan on any holiday driving.
Perhaps the best travel features available with credit cards are travel rewards. You can use these rewards to pay for plane tickets, hotels, and rental cars. This is a great feature to have for any traveling.
Bring Extra Credit and Debit Cards
Sometimes you encounter problems with your primary credit and debit card while traveling. This is especially true while traveling abroad. It can include a lost wallet, a thief stealing your purse, or an ATM eating your card.
You should always bring extra credit and debit cards. This will prevent any small problems from turning into much bigger problems.However, you should keep your extra cards separate from your primary cards. For instance, you can leave your backup cards in the hotel safe while you travel around the city. This way if you lose your wallet you will still have a backup available.
Research Your Destination
You should always research your destination before vacation. This also means checking what credit cards are commonly accepted there.
Most countries and areas will accept Visa and MasterCard. American Express or Discover are much less likely to be accepted. This can be expected in areas outside of major cities or while traveling abroad.
Researching this might be difficult as there is not a unified source for that information. However, a quick Google search should result in all the information you need to make an informed decision about what type of card to bring.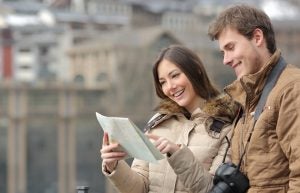 Bring Backup Cash
Bringing backup cash is another necessity for holiday travel if you travel internationally or to rural areas in the United States.
Some countries, or locations in the United States, are just not credit card societies, which means a credit card is basically useless. These locations may have a limited number of ATMs available too.
Alternatively, your identity could get stolen while on vacation. This would mean many of your cards would be unusable. Backup cash is always a great option for that reason.
That said, you do not need to bring thousands of dollars in cash. Just enough to last a few days in the event of an emergency.
Final Thoughts
Traveling during the holidays is stressful, but the tips listed above should help you alleviate some of the stress caused by worrying about your credit cards.
Of those tips, the most important thing to remember is to let your issuer know your travel plans and to bring back up forms of payment. This can include cash, credit cards, and debit cards. You just never what problems you may encounter while traveling.
Other important, but not essential, points to remember are to look for credit cards that reward travel. This could be an airline credit card or even a card that gives cash back for gasoline purchases or fast food purchases. It will only be a few percent cash back, but you are already paying for the gas anyway. An extra 1%-2% is a good discount.
Carry on the conversation on our social media platforms. Like and follow us on Facebook and leave us a tweet on Twitter.