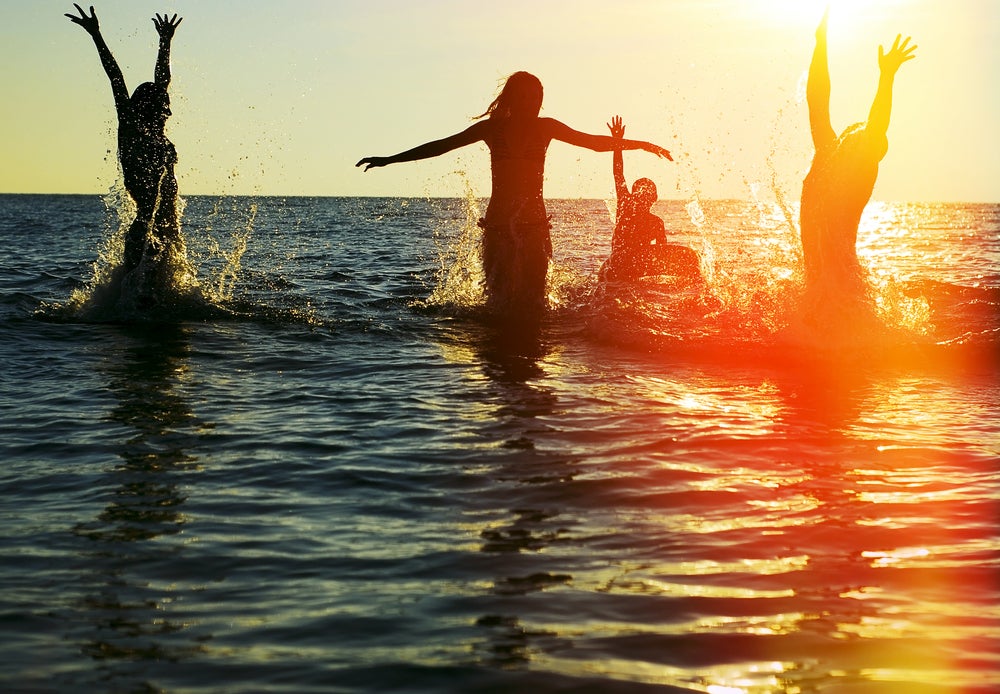 This summer will be upon us before you know it, and for many people, that means vacation.  Whether it's just you, or you're taking the whole family, you don't have to break the bank, you can still travel in comfort and visit amazing destinations if you make smart travel choices.
The Glories of the Stay-Cation
For example, if money's tight this year, you could try taking a stay-cation in your hometown or your home state. Just like the native Manhattanite who's never visited the Empire State Building, the Statue or Liberty, or ridden on the Staten Island Ferry, there are likely plenty of interesting attractions and activities close to you. If you do just a little bit of research, for instance, visiting your state tourism board website, you can find out about nearby historic attractions, local art walks, state and county parks and other natural wonders, and free tours that you never knew existed. Best of all, if your stay-cation consists of a series of day trips and you pack your own picnic lunch and snacks for your travels, you can end each day safe and cozy in your own bed without spending a small fortune on meals and hotels.
Earn Free Travel with your Credit Cards
If you've got a yen to travel the world, then it really behooves you to select a credit card that serves that goal. For instance, all of the major U.S. airlines have their own credit cards that offer significant bonus miles when you sign up, usually between 30,000 to 50,000 miles. That many miles will earn you a free round-trip coach flight right off the bat.
One of the better airline credit cards is the Southwest Airlines Rapid Rewards Premiere Credit Card, which gives you 25,000 points after you spend $1,000 during your first three months of membership. In addition, you're eligible for 2X points for every dollar spent on Southwest airfares as well as all Rapid Rewards® Hotel Partner, Car Rental and point purchase. All other purchases earn you 1X points per dollar spent. Another benefit travelers will appreciate is that there are no foreign transaction fees with this card. Finally, you'll earn 6,000 points after your one-year anniversary, and 1,500 "Tier Qualifying Points" for every $10,000 you spend.
The United MileagePlus Explorer Card looks like a good bet, too. In addition to earning 10,000 bonus miles with your first $25,000 in purchases, the United card also gives members 5,000 bonus miles for adding another user. Members earn 2X miles for every United travel purchase, and 1X miles for every other purchase. Best of all, the miles earned on this card never expire. Frequent travelers will appreciate some of the other benefits this card offers, such as free check-in for your first bag, priority boarding for all flights, no foreign transaction fees, and two United Club passes per year.
The CitiBusiness®/AAdvantage® Platinum Select® World MasterCard® seems like an especially good choice for anyone doing business travel in addition to vacation travel. Among the benefits it offers for members are having the membership fee waived for the first year, 2X miles on all America Airlines airfares, the first bag checked free for the cardholder and up to four fellow travelers, Group 1 boarding, and a 25% discount on all food and beverage purchases on American flights. The other benefits include 2X miles for certain car rental, office supply and telecommunications transactions. Finally, and this is only for a limited time, card members are entitled to a whopping 50,000 bonus miles for the first $3,000 spent during the first three months of card membership.
Want To Save Money On Air Travel? Flexibility Is The Key!
Airline travel continues to be expensive, despite the fact that fuel prices are going down. However, if you fly as economically as possible, there are a few strategies that you need to embrace.
Fly in the middle of the week instead of on weekends. Doing this can save you hundreds of dollars, even thousands if you're traveling with your entire family. To jump on these lower fares, try consulting airfarewatchdog.com frequently, or sign up for travel alerts. You will be pleasantly surprised at the bargains you can find there.
Be flexible about where you're going. Depending on the time of year, you can visit many desirable destinations in the U.S. and elsewhere for far less than the peak fares. Also, try visiting less popular destinations. Instead of going to Costa Rica, say, try visiting Nicaragua, Honduras, or Guatemala. All offer exotic locales, interesting local cuisines, and some spectacular landscapes to take in.
Don't be afraid to travel in the off-season. In addition to lower airfares, you can often get bargains on hotels, restaurants, and sightseeing tours when you visit during the "shoulder seasons". In addition to saving on airfares, hotel accommodations, or meals, you'll be rewarded with smaller crowds, better service in hotels and restaurants, and more bargains in local shops.
Kick The Big Hotel Chains To The Curb
Want to make your travel dollars go further? Don't stay at the Hilton, Marriott, or any other name-brand hotels. Your stay will be just as comfortable and relaxing, and you'll a much more authentic experience if you stay at a locally owned hotel, run by a native family. Don't know where to look: try Hotels.com or TripAdvisor for even more options.
Try Housesitting. This is an excellent option if you're traveling with a large group. By agreeing to take care of the owner's property, you can get a free place to stay. You may have to do some chores, like basic upkeep or cleaning the pool, but it beats spending your hard-earned cash on an over-priced hotel room. In some cases you can even get the use of the owner's car, thereby sparing yourself the expense of renting a car. Try Luxury House Sitting if you want vacation in real style, though Mind My House and House Carers offer plenty of comfortable lodgings of all shapes and styles. Airbnb also offers you the chance to stay in sometimes strikingly beautiful, well-appointed private homes for about what you'd spend on a medium-priced hotel, staying n far greater comfort, and usually including a continental breakfast. It also gives you a chance to meet local residents.
Consider An Apartment Rental
The problem with most vacations is that you don't really stay long enough to get the real flavor of a place because you have to take into account the cost of your hotel room, restaurant meals, etc. However, if you rent an apartment, you can stay for longer, in greater comfort, and enjoy many of the same amenities you have at home such as a full kitchen (giving you the ability to cook your own meals and save a bundle), a washer and dryer (which enables you to pack less clothing), a living room, more bedrooms, etc. Renting an apartment is easy on the Internet, and costs far less than a hotel. Sound intriguing? Check out vrbo.com, or Wimdu.com to consider your options for a longer duration, less expensive vacation.
Just remember, the enemy of economical travel is conventional thinking. Don't be afraid to move outside your comfort zone in the areas of destination, lodgings, travel season, or modes of travel.